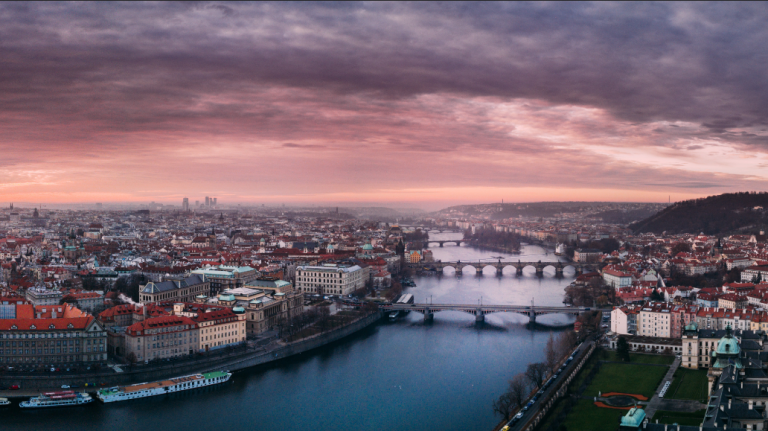 Language
The official language in the Czech Republic is Czech. It belongs to the group of West Slavic languages, like eg. Slovak or Polish. Czech has a very rich vocabulary, many special grammatical features and some unusual sounds. At present, it is one of the official languages of the European Union.
In tourist places – hotels, restaurants, monuments, museums, galleries, but also in a number of shops and services it is possible to make oneself understood in English or German, exceptionally French.
Visas
The Czech Republic (Czechia) is a member of the European Union (EU) and of the Schengen area, therefore EU tourist visitors do not require a visa to visit Prague, just a valid passport (or ID card for EU citizens).
Visitors from the U.S., Canada, the European Union, including the U.K., and Australia do not need a visa to enter the Czech Republic. Visitors are permitted to stay in the Schengen area (Czech Republic included) for 90 days of a 6-month period.
Visitors from other countries may need to obtain a visa before entering. A list of countries requiring entry visas as well as steps necessary to acquire a visa can be found on the website of EC Migration and Home Affairs here.
Travel to Prague
Václav Havel Airport Prague is the international airport of Prague, the capital of the Czech Republic. It is located 20 km (12 mi) west of the center of Prague. All international flights arrive at this airport, including many of Europe's best-known air carriers. 
Inquiries on departures and arrivals:
Phone: (+420) 220 111 888
Get discounts on your flights with Czech Airlines!
Discount code name: ISBNPA2019
Fare amount discount: 10% (Economy class) / 15% (Business class)
Destination: Valid on all Czech Airlines flights to Prague
Flights: Any Czech Airlines operated flights (not valid on flights operated by other airlines, except OK*/AF CDG)
Travel period: 28 MAY – 14 JUN 2019
Selling period: 22 MAR – 14 JUN 2019


*Promo code to be entered below the calendar on the airlines' website*
Transportation from the Airport
There are a few ways to get from Prague Airport (PRG) to Prague:
Must-Have apps for active travelers in Prague and Czech Republic
Mobile application searches for the cheapest fare and allows you to buy single tickets valid for 30 minutes or up to as much as 3 days directly from your mobile telephone using a bank card. No need for Czech cash!
You can also buy tickets without registering. Works only for Prague.
Click here!
A must have app for those wanting to use public transit in Czech Republic and Slovakia (Bus, Tram, Metro, Train).
The most robust and precise information of any public transport app.
Check it here!
City Buses
Line № 119 Prague Airport – Nádraží Veleslavín Metro Station (Green Line A) – 17 minutes

Line № 100 Prague Airport – Zličín Metro Station (Yellow line B) – 16 minutes

Line № 191 Prague Airport – Petřiny Metro Station (Green Line A) – 24 minutes and Anděl Metro Station (Yellow line B) – 48 minutes

Night line № 910 Prague Airport – center – 40 minutes
Timetables and detailed information – tel. (+420) 296 191 817, www.dpp.cz
Express Bus
Special barrier-free line AE – Airport Express Prague Airport – Main Railway Station – 46 minutes (opposite direction – 30 minutes)
Taxi
Prague has had its fair share of justified bad rap against its taxi drivers, so it's best to make sure you use one of the trustworthy companies, and this is especially true when travelling to and from the airport.

For more details see paragraph about taxi bellow.
Shuttle or towncar
The Prague Airport Shuttle is cheap and reliable shared taxi and minibus transportation from and to Prague Airport (Václav Havel Airport Prague). Booking your shuttle transfer online is a very easy process and takes less than a few minutes.
Transportation within Prague
Metro
The Prague Metro network consists of 3 lines designated by letters and differentiated in colour:
Green colour (Depo Hostivař station – Nemocnice Motol station) – line A

Yellow colour (Černý Most station – Zličín station) – line B

Red colour (Letňany station – Háje station) – line C

Changing stations are Muzeum (lines A and C), Můstek (lines A and B), Florenc (lines B and C).
The Metro operates daily from 5 a.m. to 12 a.m. The time interval between train departures is approximately 2-3 minutes during the workday rush hours and 4-10 minutes during off-peak hours.
Trams
Daytime operation is from 4:30 a.m. to midnight. Night operation is provided by tram numbers 51 to 59 in 30 minutes intervals. The central interchange station for night lines is Lazarská.
Tram schedules are located at individual stops. Historical tram – the nostalgic tram line no. 41: sightseeing rides on this historical tram through the center (detailed information here).
Important Warning: Trams always have the right of way at pedestrian crossings.
Buses
The daytime and night operation of buses is similar to tram operation. Night service is provided by bus numbers 501 to 513. Bus schedules are located at individual stops.
The Funicular
The Funicular to Petřín Hill operates along the route Újezd – Nebozízek – Petřín. The Funicular operates daily from 9:00 a.m. to 11:30 p.m. (April – October) and from 9 a.m. to 11:20 p.m. (November – March) with traffic intervals from 10 to 15 minutes.
Single-trip tickets fares
Basic – 90 min.; CZK 32 (1,5 USD); reduced 16 CZK (the ticket is valid for the underground, trams, buses and funicular for 90 minutes after marking, age of child must be proven).
Short-term – 30 min.; CZK24, recduced CZK12.
Short-term tourist tickets fares
24 hours ticket 110 CZK, children (10 – 15 years) 55 CZK.

3 days 310 CZK (available just for adults).
Taxi
The maximum prices for taxi services in the district of the capital city of Prague:
ride in the district of the capital city of Prague 28 CZK/1 km

boarding fee 40 CZK

waiting 6 CZK/1 minute
The maximum prices are valid for all vehicles offering taxi services in the district of Prague. The price for waiting includes waiting in a traffic jam (slow traffic) as well as waiting on customer's request. Fare outside the district of Prague is not limited.
Warning for Customers
Each taxi has to be equipped with a permanently installed roof lamp with the TAXI sign.

The registration number, company name and the price list including the basic rate, kilometer rate and one-minute-waiting rate must be displayed on both front doors of the taxi. These prices must correspond with the prices set on the taximeters in the taxi.

Customers are recommended to order a taxi by means of nonstop dispatching offices, where the information on fares is available in advance.

When the journey is completed, the driver is obliged to issue an orderly and fully filled receipt for the payment. The receipt has to be issued by the taximeter printer.
Taxi nonstop
Trains
Praha hlavní nádraží train station
The main train station in Prague is Praha hlavní nádraží, which is near Wenceslas Square.
Metro: Hlavní nádraží – metro map (line C).
Nádraží Praha-Holešovice train station
A second railway station is located just outside the city centre, Nádraží Praha-Holešovice.
Metro: Nádraží Holešovice – metro map (line C).
Train Times & Ticket Reservations
Czech Republic has three main train companies. All of them are providing reliable services. Check train times at www.idos.cz or directly on providers pages:
České dráhy (Czech Railways).
Regiojet 
Leo Express  
Currency
Czech Money
The Czech Republic's currency is the Czech koruna or Czech crown (Kč / CZK). Despite being a member of the European Union, the Czech Republic has not adopted the euro.
Notes come in denominations of 100, 200, 500, 1000, 2000, 5000 CZK. Coins come in 1, 2, 5, 10, 20 and 50 CZK.
Currency Exchange in Prague
There are numerous bureaux de change in Prague – in the city center, as well as at Prague's airport and major train and bus stations. After comparing the exchange rates on offer and finding the best deal don't forget to ask about commission. A good tip is to ask how many Czech korunas you will receive in total after all charges have been deducted. Exchanging money in banks is also advisable. Current exchange rates can be found at www.cnb.cz.
Payment Cards and Cash Machines (ATMs) in Prague
Most common international types of payment cards – especially Visa and Mastercard – are widely accepted in Prague's shops, hotels and restaurants.
There are plenty of cash machines in the centre of Prague – in banks, large shopping centres and especially in metro stations. Most of them accept all regular international cards with the Visa, Plus, Mastercard, Cirrus or Maestro symbols.